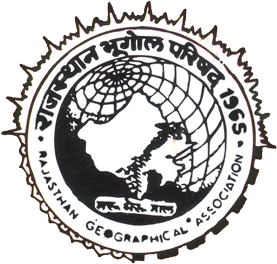 The Rajasthan Geography Association (RGA)
46th National Conference
on
Sustainable Future:
Global Challenges for Environment Protection and Social Development
(10TH to 12TH January, 2019)
Organised by
Department of Geography,
 Maharana Pratap Government College, Chittorgarh, Rajasthan, India
AN INVITATION
The 46th Rajasthan Geography Association (RGA) conference is scheduled to be organised at Maharana Pratap Government College, Chittorgarh, Rajasthan. It will be hosted by the Department of Geography on January 10-12, 2019. The focal theme of the conference is Sustainable Future: Global Challenges for Environment Protection and Social Development. All the members of geographical fraternity including RGA life members and researchers from allied disciplines are cordially invited to present their research papers and participate in the discussions and proceedings in the 3-day long event.
THE HOST  INSTITUTION
Government College Chittorgarh was established in the year 1962, later it was name after Maharana Pratap, a legendary Royal of the Princely state of Mewar, situated in Southern Rajasthan. With the heritage dating back to more than 56 years, M.P. Government College, one of the premier institutes of higher learning contributed significantly to the academic and cultural life of the entire southern Rajasthan. In the NAAC accreditation being done in 2016, M.P. Government College has been awarded with grade "A" .The college runs under-graduate, post-graduate and Ph.D. courses. Having more than 6000 students studying in 16 undergraduate and 11 postgraduate departments, the college is fully equipped with digital library, smart classrooms, sophisticated instruments, computer labs, and other impressive infrastructures.
THE HOST DEPARTMENT
The Department of Geography in M.P. Government College is well known for its academic pursuits and excellence. The subject was first introduced at the UG level in 1962. Master's degree in Geography was introduced in 2003. The Department has four faculties and one laboratory bearer. The Department is well equipped with two smart classrooms, one GIS Lab. and one Geography lab. The department has two on-going projects funded by UGC. The department holds the distinction of organizing 31st annual RGA conference in the year 2003. Over the years the Department of Geography was blessed by the services of some illustrious academicians Prof. Vikram Singh, Prof. Mohi-ud-din Sheikh, Prof. Shyam Sundar Bhatt, Prof. M.C. Porwal , Prof. R.L. Maru ,Prof. R.L. Joshi and  Prof. G.P. Nagar.
THE HOST CITY
The city of Chittorgarh is located between 24013' N to 25013' N Latitude and 74025'E to 74044' E Longitude. The erstwhile Mewar state has been a land of brave kings, illustrious queens, valiant nobles and spirited warriors. Chittorgarh city was the capital of the state of Mewar. The Chittorgarh fort has witnessed fierce battles, strategic political alliances, construction of mighty structures and sacrifices being done by queens through mass self-immolation. The history of Mewar started in 6th century with King Chitrangada, a Prince hailing from the house of Mauryas. Kalbhoja titled as Bappa Rawal started the Kshatriya dynasty in Mewar and defended its frontiers against the Arab invaders and brought Mewar on the political map of India. This place is also known for the pious beauty and political sense of Rani Padmini, the versatility of Rana Kumbha, the spirituality and single-minded devotion of Meera, sacrifice of Panna Dhai going beyond the call of duty, iconic philanthropist Bhamashah etc. This town is emerging as a major industrial hub in Cement and Marble industry.
Chittorgarh reports of moderate climate with daily temperature ranging from 250   to 400 c in summer and 50 to 200c in winter. The average rainfall is about 70 cms. Chittorgarh is well connected to the major cities of India by the means of Air (Udaipur), Rail and Road network.
ABOUT RGA
The Rajasthan Geography Association (RGA) is one of the oldest among state level geography associations in India. It was formed in 1965 during the time of first academic conference of Rajasthan Geographers; it was organized by the department of geography M.L.V. Govt. College Bhilwara, which later on became the permanent headquarters of this association. The association was registered in 1971 under the Rajasthan Societies Act, 1958. Its monogram  was designed and  adopted with three key words Maru, Meru and  Mal, i.e. , desert , mountain and plateau , which not only summarizes the Geography of Rajasthan but also explains the cultural patterns associated with three types of natural landscapes in the state. Despite financial constraints, the association holds its annual conference regularly in the various colleges and universities of the state of the Rajasthan.
FOCAL THEME
 Sustainable Future:
 Global Challenges for
Environment Protection and Social Development
At its heart, sustainable development is the simple idea of ensuring a good quality of life for everyone, now and for generations to come. It is about living within the carrying capacity of the environment so that how we live, work and enjoy leisure activities, which do not harm or put undue pressures on the environment. Sustainable development is the need of the present time not only for the survival of mankind but also for its future protection. Unlike the other great revolutions in human history the Green Revolution and the Industrial Revolution the 'Sustainable Revolution' will have to take place rapidly, consciously and on many different levels and in many different spheres, simulta­neously. The aim of ecologically sustainable development is to maximise human well-being or quality of life without jeopardising the life support system. The measures for sustainable development may be different in developed and developing countries according to their level of technological and economic development.
It is upon the decision-makers in politics to create the right framework and the pre-conditions for a sustainable development in environment. Global involvement, on the other hand, must not be left out of account. Sustainability reflects our understanding of necessity and responsibility on the question for whom, for what and how production can be guided into the future in a way that is efficient, environmentally sound and sparing on resources at local, regional and international levels. This conference provides an interdisciplinary, quantitative and integrated approach for wellbeing of the environment and society.
SUB-THEMES
Climate Change and Environmental Dynamics
Demography, Society and Culture
Geography of Health, Livelihood and Well Being
Agricultural Development and Food Security
Geomorphology and Hydro-Geology of Rajasthan
Regional Development: Disparities, Challenges and Opportunities
Policy Initiatives, Governance and Socio-Economic Empowerment
Sustainable Development Policies for Rural and Tribal Communities
Urbanization: Trends, Impacts and Challenges
Smart Cities and Green Infrastructures
Energy and Water Conservation Strategies for Arid Environment
Geospatial Techniques and Applied Geographical Research
Innovations in Teaching and Learning in Geography.
The Rajasthan Geography Association, Bhilwara
EXECUTIVE COMMITTEE: 2017-18 
Patron
Prof. Mohi-ud-din Sheikh
President
Dr. Jaideep Singh
Vice- President
Dr. R.N. Sharma

Dr. Naresh Malik

Dr.B.L.Burdak (School Education)

General Secretary
Dr. S.S. Bhatt
Joint Secretary
Mr. Nirmal Desai
Treasurer
Dr. Sawan Kumar Jangid
Editor (Annals)
Prof. S. C. Kalwar
Organizing Secretary
Dr. Narendra Gupta
Executive committee
Dr. Sushil Dalal
Dr. Shiv Raj Meena
Dr. Habib Ahmad
Dr. Chandan Mal Sharma
Dr. Gajendra Singh
Dr. Pawan Sharma
Dr. Rajendra Prasad
Dr. Sumitra Gupta
Dr. Shayopat Ram Saharan
Mr. Naem Khan
Dr. R.K. Gurjar (Ex.-President)
Dr. Dharmender Singh Chauhan (Ex. Org. Sec.)
 ORGANISING COMMITTEE
| | |
| --- | --- |
|   Patron |   Prof. B.L.Acharya, Principal |
|   Co-Patron |   Prof. Rakesh Bhattar |
|   Convener |   Mr. Nirmal Kumar Desai, Head |
|   Organising Secretary |   Dr. Narendra Gupta |
|   Co-Organising Secretary |   Ms. Sushma Loth , Mr.N.L.Gurjar |
CALL FOR PAPER
The organizers invite research papers and posters from all interested academicians and researchers in the 46th RGA conference on Sustainable Future: Global Challenges for Environment Protection and Social Development. There will be oral as well as poster presentations in the conference. Participants intending to present paper(s) are requested to send the abstracts through email till 10th December, 2018. The acknowledgement about acceptance of paper will be send on or before 31st December, 2018. The abstract of registered participants (appearing till 10th December, 2018) will be included in the Abstract volume. The full length paper (soft copy) should reach the Organizing Secretary latest by 31st December, 2018.The "Young Geographer Award" will be awarded for best research paper by the participant below the age of 35.Please mention" Young Geographer Award" on the abstract and first page of the research paper. The paper will be accepted in individual capacity.
LAYOUT OF ABSTRACT AND FULL PAPER
Text- (in English) Normal, Times New Roman and font size 12.
          (In Hindi) Kruti Dev 011 with font size 12.
The abstract must clearly indicate the problem, methodology and findings of the work within 300 words.
Key words-4 to 5 key words.
Full paper- With original figures in soft copy and one hard copy should reach latest by 31st December, 2018.
No abstract will be accepted after 10th December, 2018.
REGISTRATION DETAILS
Delegates
On or before 10th December 2018

(Early Birds)

After 10th December 2018

(Late) to

31st December 2018

Indian Delegates
1200
1500
Research Scholar
1000
1200
Corporate Delegates
1500
2000
Note-
No registration will be entertained after 31st December, 2018. However, Spot registration will be available only for the participant without kit and without accommodation on the day of the conference on payment of a registration fee of Rs. 2000.
Research scholar's registration is applicable to M.Phil. and Ph.D. scholars. A copy of an institutional ID, as a proof of being a bonafide research scholar, is required to avail the research scholar's facility.
MODE OF PAYMENT

Registration fee can be paid through online bank transfer through RTGS/NEFT/Net Banking or Bank Draft.
Bank draft should be drawn in favour of 46-Rajasthan Geography Association Chittorgarh payable at Chittorgarh.
Bank transfer should be made to the BANK OF BARODA, Senthi Chittorgarh branch in the account of 46-Rajasthan Geography Association Chittorgarh, vide Account no. 14810100022425 (IFSC code: BARB0SENTHI) MICR CODE 312012003.
The last date of payment of early bird registration fee is 10th December, 2018. However the scan copy of Demand Draft/online transfer receipt of early and late registration fee has to send to the official email of the conference on or before 31st December, 2018.
*Participants are requested to become Life member or Annual member of the RGA. If not a life member, annual fee of Rs.300/- or life membership of Rs.3500/- has to be paid together with membership form.
ACCOMMODATION
Accommodation will only be provided to those delegates who inform the organizers in advance (before 31st December, 2018) and will be accommodated in various institutional Guesthouses and Dharamshalas available to the Organizing Committee.
IMPORTANT DATES
| | |
| --- | --- |
| Conference Date | 10th  to 12th  January,2019 |
| Abstract Submission | Till 10th  December,2018 |
| Full paper submission | 31st  December,2018 |
| Payment of Registration Fee | Till 10th  december,2018 (Early Birds) |
|   | Till 31st  December,2018 (Late) |
| Confirmation of Acceptance | Till 15th December,2018 |
CONTACT DETAILS
DR. NARENDRA GUPTA
(ORGANISING SECRETARY)
Department of Geography
Maharana Pratap Government College,
 Chittorgarh-312001, Rajasthan, India
Mobile no:- 9352772029, 01472-241041(O)
Website- www.rga.ac.in